If you want to build your brand and are overwhelmed with thoughts like 'Whether your brand will resonate with your audience or not?' then don't worry; we've got your back. 
You are in the right place. Here we will guide you through building a successful brand from scratch. 
Like any other successful endeavor, it's not an easy task. It takes loads of effort and planning. But we will make it easy for you to follow a step-by-step guide. 
Keep reading.
What is a brand anyway?
Suppose you have to buy some chocolates for your loved one. What will be your pick, Lindt, Mars, Hershey's, or some less-known chocolate with the same price? Of course, you will go with one of the big names above. 
Did you get it?
A brand is not just any random product some company manufactures.
A brand is a perception of a product, service, or organization. It is a series of consistent decisions that bolster your position in the consumer market and convey what you stand for. 
Whether an on or offline business, brand building is critical to the growth of your business. It helps you get the recognition you need to generate leads and build a bond with your customers.
How to build your brand: A step-by-step guide
As we know that a brand is not just a name and logo, we will look into what distinguishes it from the crowd. Certain elements set you apart from other businesses. These elements also decide how the audience perceives you. 
They include
Content

: tone, message

Visuals

: logo, colours, fonts, images

Online presence

: website, social media platforms
Now, let's look into a step-by-step guide to building your brand from scratch.
1. Identify your target audience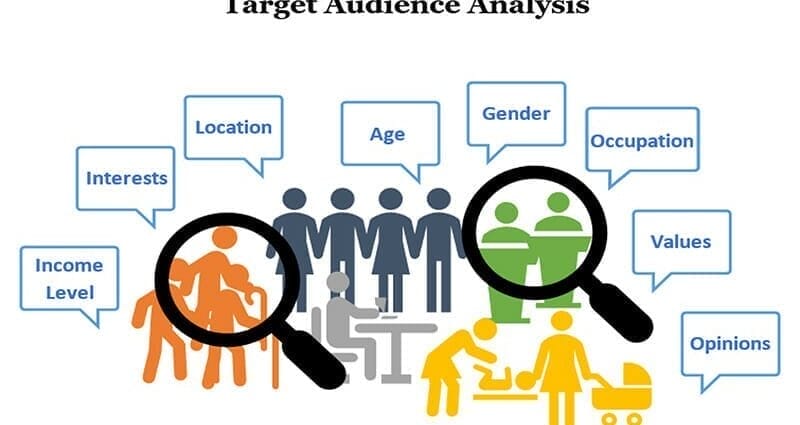 Before you build a brand, you need to identify the potential customers. Evaluate your target audience and mark the ones you would like to focus on.
You can search for your target audience based on the following:
Demography

: age structure and social statistics (that can help you understand the demand for products in question) 

Pycography

: the values, spending habits, and spending potential

Queries

: google queries related to the product/service, eavesdrop on their conversation and product recommendations

Survey

: talk to the people. It will make you understand their choices and the pain points they want you to resolve in your products/services.
Source: Beverly Hills Chamber
If you focus on customers that are not relevant, you will not succeed in generating leads and retaining customers.
 Therefore, it is important to have this information in your bucket to understand the purchasing patterns of your audience to target the more relevant narrow base.
2. Evaluate your competitor's brand
Now is the time to conduct thorough competitor research and analysis. Competitor research is an effective tool to measure the strengths and weaknesses of your competitors in the industry. This data will provide information about your competitors' target audience and how they reach them. It will certainly inspire you to set your brand uniquely, still relevantly. 
Here are some tips; following them, you can find competitors in your niche. 
Search your industry-related product on google and make a list of all the direct and indirect competitors you find in your niche

Read queries on Quora and Reddit to find recommendations for other brands.

Conduct a hashtag search on different social media platforms to find brands with those hashtags

Talk to the people in the potential market and ask them what brands they buy from.
Now you have a list of competitors and potential competitors of your brand. You have to select a few top-established brands for analysis. It will give you insights into their do's, don'ts, audience, and marketing strategy. 
As you go about your research, note
Their brand assets

, such as name, logo, colors, and fonts (what makes them catchy)

Their content

(tone of voice, formal or humorous, and the message they convey)

Their marketing strategy

(the values they stand for and tactics they use to establish themselves in the market) 

Feedback

on their socials (people's perception of them, what people like about them and whatnot)

Do you find loopholes in their overall strategy? Pen it down.
Image: Pivony
  Although you will operate in the same industry, there will be some gaps your competitors fail to bridge, and you can work on them to set yourself apart. 
3. Establish your brand position
Once you are done with your audience and market research, you must establish your brand's position. You have to decide the mission of your brand. 
You can not offer the solution to anyone and everyone's problems, and that too in the start. Therefore you have to find a narrow area to focus on.
The solutions your brand provides greatly contribute to your brand's mission statement and digital marketing campaigns. You can not be a brand that offers high-end, luxury clothing and position yourself as one that resonates with everyone. 
Your mission statement should naturally include the following:
The problem your brand resolves

Your brand's offering

The target market/people that might be searching for your product/service

The specialty your brand offers
 Nestlé is a well-known food and drink processing corporation; look at their mission statement.
Pick a great business name
Although William Shakespeare wrote, "A rose by any other name would smell sweet," it won't be a good idea for an online flower business to call itself rancid-thorns.com. Will it be?
That's why choosing a name for your brand is a vital and tricky task. It is the first impression your brand casts on the audience. It can be memorable or forgettable. And, of course, you want to make it memorable.   
A great business name should be
Unique (hard to imitate),

Easy to distinguish from the crowd,

Resonate with your brand persona.
Your business name is critical to your brand's identity, as it will impact your brand's logo, trademark, and marketing strategy. 
Here are some name types you can choose your brand name from.
Descriptive names

that describe the product or service of a brand; General Motors is a good example.

Evocative names

use suggestions or metaphors to bring into mind the experience or positioning of your brand. An example is Amazon.

Invented names

are usually driven from Latin or Greek roots words. Intentionally misspelling words is another approach to inventing brand names. Flickr and Tumblr are good examples. 

Lexical names

rely on phrases, puns, and pairing words for memorability. They are often too clever to be used in the corporate world as they give a comics-like impression—for instance, Krazy Kreme and Dunkin' Donuts.  

Acronymic names

create room for long brand names. Like HBO for Home Box Office and BMW for Bavarian Motor Works. 

Founder names

: Then there are brands named after their founders. They are not that common nowadays, but Ralph Lauren and Calvin Klein have made them work. 
You can also use the Business name generator tools to pick a name for your brand.
Determine your brand's persona
Your brand can have a personality even though it is not a person. Think about your brand as a person. What kind of metaphors can you associate with it if it were a person?
Think of some metaphors and qualities that summon a vibe you want your brand to give it off. It can help you to build a persona of your brand. 
You can pick three to four adjectives that resonate with your brand. You can choose words to describe your brand's personality from the Shopify graphic below.
Source: Shopify
People will love to interact with your brand more if it has a personality, just as they do with people. Once you've decided on a persona for your business, stick with it across all channels to build brand credibility.
6. Portray your brand story
Businesses need a narrative for their owners to inspire others and for the sales team to convince customers. This narrative comes from the brand story. 
A brand story is the "why" of your brand. Human brains are fond of listening to stories. Therefore, every brand needs a story to represent the essence of its brand to the world because your perception is built on how you portray your image to the world. 
As it will make the "about us" page of your website. It would be best if you had a well-crafted story for the audience so it can evoke emotions and the customers can relate to your brand's values. 
Here's the brand story of Google and Pampers to take some inspiration from. 
7. Establish your brand's looks
The role of colour psychology in marketing is one important thing that should be considered while creating brand assets. It may help understand buying patterns of customers regarding colours.  
Research shows that 90% of at-the-spot judgments about brands were based on the colours alone.
Each colour has a different aura. The colours you use while branding defines your brand and expresses the feelings you want to convey to your customers. 
The infographic below shows how different colors are associated with some powerful emotions.
Source: TheLogoCompany
Along with colour, you must consider fonts. Go through thousands of options online and pick the ones you think will work best for your brand. The fonts you select must be 
Easy to read,

Consistent across all platforms
 8. Create a logo
The logo is the first thing that comes into mind when thinking about a brand. It is fairly justified; after all, it is the face of a business. 
Like your name and slogan, your log should be unique and memorable. It helps to make that crucial first impression on the customers. Don't pick the one that anyone can confuse with your competitors. 
A good logo is unique, balanced, and vectorized. Also, your logo must be scalable to various sizes. Take everything into account, as it will go everywhere your brand goes. It will go on
Business cards,

Stationery and packaging, 

Website ads,

Website favicons, and

Social media profile pictures.  
Let's get familiar with different logos so you can choose the right one that accurately communicates your brand's personality. 
Lettermark logo

: If you have a long business name, you can turn its initials into a letter mark logo—for example, the logo of Home Box Office.

Mascot logo

: They usually represent the face of a character. It helps you to establish your brand's identity as a person that is more relatable. KFC and Pringles are famous examples of such logos.

 

 

Emblem logo

: The emblem logo contain both text and an emblem in a circular shape. It is a great choice when you are using limited text. Have a look at the former Starbucks logo.

Icon logo

: An icon logo is a visual metaphor that suggests the product or service of a brand. However, this is more suitable for established brands that are more identifiable by the customers. Twitter uses a bird's icon for 'tweets'.

Wordmark logo

: A wordmark logo is simply the name of your brand beautified by some typography. They communicate your brand more loudly and clearly, giving it a visual identity. Here are some popular brands' wordmark logos.

The combination logo

combines the text and the icon to give it a unique and hybrid look. Airbnb and Bluetooth logos are good examples to take some inspiration from.

 

Abstract logo

: An abstract logo doesn't contain any text or icon; instead, it has a shape of bright colors that have an implicit meaning. It leaves lots of room for creativity—for instance, the logo of Google Chrome.
You can outsource logos from Fiverr and Upwork or take inspiration from 99Designs.
9. Write your tagline
You have to have a catchy tagline to create a memorable experience with your customers and stand out in a competing environment. 
A tagline is a catchy phrase or a one-liner that can instantly stick to the mind of your customers. It is a great tool for building your brand's voice and recall. 
Fitting in one sentence what your brand stands for is undeniably challenging, but you need not worry. We have got you covered. 
You can create a slogan using a slogan maker. Or There is always room for creativity.
There are no hard and fast rules of the game; you can still keep following popular slogans in mind to come up with your own. 
Keep it inspirational, just like Nike did. Nike's slogan, 'Just do it,' is one of the most recognizable taglines in the world. 

You can always come up with something out of the box, just as Apple did with its products and tagline (think differently). 

You can base your slogan on your customers' experience. McDonald's did the same with its 'I'm lovin' it'. 

Make your claim. For example, "I'm stuck on wake up, cause Wake up is stuck on me" by WakeUp Coffee.
10. Adopt a multi-layered promotional approach
Once you are done with the nitty-gritty of building your brand, it is time to promote it across all channels. 
Ensure your presence on social media platforms, and try to engage with customers more often. Customers love social media as it gives them the impression that they are talking to a person, not a big brand. 
Posting user-generated content is a great idea. Also, sharing feedback on your brand's social media platforms can build a relationship of trust with the audience.
Integrating influencer marketing into your promotional strategy will further increase your blog traffic. It will enhance the brand voice and help you build a solid customer base. 
Conclusion 
Soaring competition demands rigorous branding that will materialise only when you build a strong brand identity. We know there is no single formula for success. However, by integrating the steps above, you can build a brand that resonates with your customers emotionally.